Conservative election victory seen as bringing certainty back into the property market
The Guardian | Hilary Osborne | Friday 8 May 2015 10.54 BST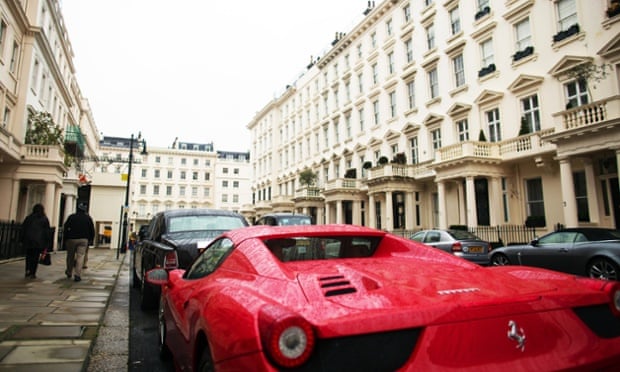 The Conservative election win has reignited foreign interest in luxury homes in the UK. Photograph: Bloomberg via Getty Images
Estate agents were reporting calls from buyers at the top end of the property market, as the Conservatives' shock election win lifted fears of a mansion tax on £2m-plus homes.
"We are already taking calls from international buyers who want to get back into the market," said Michelle van Vuuren, managing director of residential development at Sotheby's International Realty UK.
"At the top end – for the next five years at least – a cessation of the clamour for a mansion tax will see a number of transactions that have stalled to come back on line as certitude creeps back into the market."
Becky Fatemi, managing director of central London agents Rokstone said calls began while the votes were still being counted. "The first five serious inquiries on properties started to come in just after midnight, and as of 10am this morning I have had over 50 inquiries on London property, via calls and emails," she said.
"Of the 50 or so inquiries we have had, around 50% are from UK buyers, the balance from overseas purchasers, of these most are from the Middle East and Asia."
Fatemi said she had received an offer from a Saudi family on a £2.5m apartment in St John's Wood which had been on the market for the last eight months.
She added that buyers who had already agreed sales were trying to rush them through in case sellers put the price up. "We have already had this morning exchanges on over £26m worth of property, which I anticipate will rise to well over £30m by the close of the day."
Henry Pryor, a buying agent for wealthy clients, said he had been contacted on Friday morning by prospective buyers.
"I've had two emails already from clients confirm instructions to 'kick on'. One looking for a flat in Chelsea for around £5m, the other a house in central London between £10m and £15m."
Uncertainty over tax and incentives for homebuyers had caused a slowdown in activity since the start of the year, and the prospect of a mansion tax on homes costing £2m or more if Labour got into power had stalled sales at the top end of the market.
Agents said the Conservative victory brought certainty over economic policy, which would have an impact on all parts of the market.
Ed Mead, director of London estate agency Douglas & Gordon, said the election result was "a very bullish outcome for London real estate markets at all price levels".
Mead said over the next 12 months he expected "residential assets above £2m to rally by up to 20%", and that over the next five years capital values in prime London could double.
"Crucially we think there is likely to be a 10-year cross party consensus – as there was between 1997-2008 – that seeks to encourage wealth creation, foreign inward investment, tight public spending and lower taxes.
"This will keep UK monetary policy loose and be a big green light for overseas investors to choose the UK in general, and UK real estate assets in particular , and to be able to do so with a 10-year horizon."
Property firm Savills said it expected "deferred demand" for expensive homes to come back into the market, but said that stamp duty changes in 2014 meant that while activity might increase in prime London markets, prices were unlikely to take off.
"It is in prime markets outside London where we expect to see the greatest value increase," said Savills UK head of residential research, Lucian Cook.
"Improvements in the London market are likely to be sufficient to trigger a renewed ripple effect into the markets beyond the capital, as those relocating from London find it easier to sell their existing home and take advantage of the price differentials with the rest of the country."
In the mainstream market Cook said he expected activity "to pick up a little momentum over the short term", as a result of greater certainty over economic policy.
"Given where London prices sit relative to the rest of the country we would expect the biggest growth to be outside of the capital, with the strongest medium term prospects in the remainder of the south of the country given the expected pattern of economic growth," he said.